Speech Language Pathology Study Abroad Program
Belize -July 21-27, 2024
It's time to travel again! It's time to enhance your ability to serve children from any culture and any language background. Professionals earn 3.0 ASHA CEUs (30 Hours)  and Graduate SLP students can earn 3-Credit Hours through hands-on presentations, visits to cultural sites, and learning about the local languages, people, and history.
Here's how to get started:
Register below and pay a $500 deposit.
Once your registration is confirmed, you will receive a detailed email from Therapy Abroad, including information on flights, traveling with friends & family, and how to prepare for your trip. You will book and pay for your flight to Belize separately. 
The total program fee is $2,500 and includes transportation to and from the *airport in Belize City (Airport Code: BZE) local transportation to all program events, hotel (double occupancy), breakfast, lunch, and snacks at the conference, and all cultural events included in the program. The remainder of the program fee will be collected 90 days prior to travel. If you have any questions don't hesitate to contact us (https://www.therapyabroad.org/contact/): 949-423-6165.
*Transportation from BZE is included. 
We can't wait to meet you and hope you are ready for an incredible experience
Complete your Registration
Create Account
Registration Payment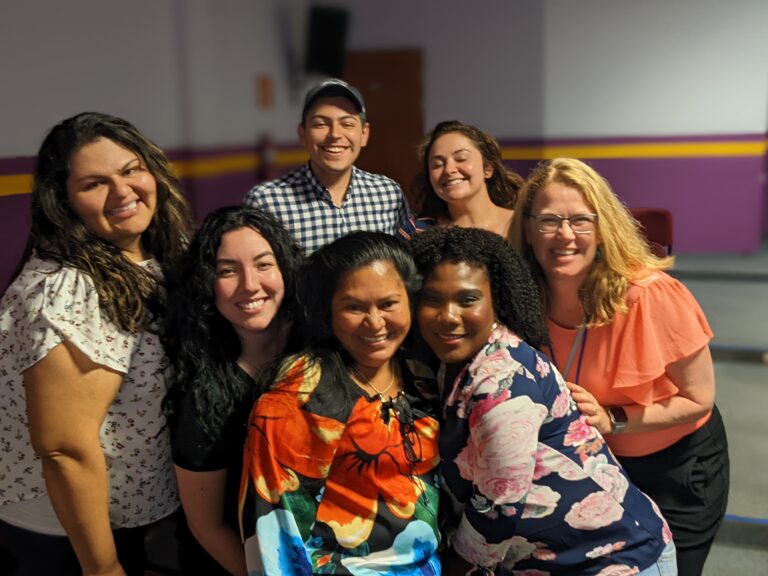 Can my partner, friends, or family come along? Traveling with someone who is not a speech-language pathologist? Friends and family can attend for $1,750 USD and get transportation to and from the airport, lodging, some meals, and the opportunity to participate in cultural activities with you.
Is there a refund policy and what about COVID? Therapy Abroad has held events during and since the pandemic. They choose countries that have been hyper-vigilant about health and safety because of their dependence on tourism. We are confident this trip will be a success. If it is canceled, you are guaranteed a full refund.
It was a career rejuvenation trip! It was great being around like-minded colleagues for all over the country that are passionate about supporting linguistic diversity and multiculturalism in underserved communities to foster equitable opportunities.
Often times being a school-based SLP can feel isolating. You're not a teacher but you're helping with students and a lot of times you're overlooked and no one really understands what you do. And when it comes to treating in areas with diversity it's just lacking. I am thrilled to take this new information into my new job and create an environment of cultural competence and diversity from the start. It was a deeeeep breath of fresh air to be in a room with people with a common goal and similar passions. And getting to learn about another culture in the process was the cherry on top. I have already text other therapy friends (I was nice enough to include OT/PT) and told them to look into therapy abroad for future trips! I'm already ready for the next one!
I have been traveling to speech and language conferences for over 20 years, from the big ASHA conference to small local conferences. I have traveled abroad for some too. None of them compare to this experience from a holistic perspective. This was the best gathering of speech-therapists, considering there were 48 or 49 in attendance. It was almost as if the group was handpicked and put together. Everyone loved being around another, even though most of us were meeting for the first time. Unlike the conferences in the states, I never ate alone a single time!!! People would just invite themselves to the table if you were there, and the table would always grow. Priceless.
Visiting Belize with Therapy Abroad and Bilinguistics was such a rewarding experience to learn more about evaluating and treating bilingual students and having the opportunity to speak to and collaborate with local teachers. They were eager to learn how to support their students when they don't have the same advantages and opportunities that we do in the US. This experience was amazing.
Participating in this program is a life changing experience. You return a different person. You are more knowledgeable; you are humbled; you are grateful; you have gained more friends.... you are a better person. Thank you, Therapy Abroad, for allowing me to learn in a way that I will never forget.
I am elated to have spent a week with people who seek to ensure that everyone has access to a "seat at the table," who are able to verbally recognize their inherent societal privileges, and who amplify the voice and experiences of people who are less represented. I feel this belief was reaffirm every day of this trip, in a variety of ways, and with sincerity. My favorite aspect of this experience is definitely the reminder of how much life can be lived in a week
The Therapy Abroad and Bilinguistics conference in Belize this summer was one of the very best learning experience of my entire career. The information presented was direct, functional and culturally relevant. Ellen and Scott are phenomenal presenters and have changed my approach to therapy and diagnostics. I am excited to implement more curriculum based activities and I feel much more comfortable using the dynamic assessment process. I am so grateful to have this opportunity to expand my professional knowledge and skills. A resounding THANK YOU!
Can you imagine being able to follow a conversation at a family gathering in which four different languages are being spoken. That could be a possibility for a family in Belize. After attending the sessions offered in Belize through the collaboration of Therapy Abroad and Bilinguistics I would be able to analyze the errors in a student's speech pattern, (who speaks a language different from mine) determine which sounds should be considered errors and how to prioritize the targets for intervention.