Belize & Guatemala: Southeast Missouri State University
Join us January 2-12, 2024 for an incredible study abroad experience in the countries of Belize & Guatemala, Central America. 
It's Time to Travel! It's Time to Learn More About Each Other. It's Time to Develop Your Clinical Skills and Cultural Humility On Your Journey Becoming an SLP!
Per ASHA (2020), developing cultural competence is a dynamic and complex process requiring ongoing self-assessment and continuous expansion of one's cultural knowledge. It evolves over time, beginning with an understanding of one's own culture, continuing through interactions with individuals from various cultures, and extending through one's own lifelong learning. Cultural competence is increasingly important to eliminate long-standing disparities in the health status of people based on racial, ethnic, and cultural backgrounds
Cultural humility goes beyond cultural competence. It is a dynamic and lifelong process focusing on self-reflection and personal critique, acknowledging one's own biases. This program seeks to help professionals grow through an immersive, relevant, and impactful experience.
Coursework is designed to bridge theory and practice, providing evidence-based practical tools that you can immediately put to use in your practice as a speech-language pathologist while broadening your cultural perspectives and experiences. 
Our Study Abroad Programs are packed with clinical activities, discussion points, and opportunities for active learning. Below is an outline of the courses. Each day will involve time discussing a variety of topics with your SLP supervisors, providing screenings, dynamic assessments, and interventions, along with culturally relevant and enriching activities. You will work with our community partners at a clinic, local schools, and non-profit organizations, and through home health care in rural villages, while learning about local culture, religion, and customs.
Hands-On TX + Cultural Immersion +Adventure Activities
This program is a collaboration between the award-winning study abroad program facilitators at Therapy Abroad, and The Southeast Missouri State Communication Disorders Program, The Belize Ministry of Education in Belize and several local community partners. You will have an opportunity to travel to the beautiful river town of San Ignacio, Belize. Explore new places, cuisines, cultures, ways of living, and approaches to supporting individuals with disabilities. This 11-Day program offers students the opportunity to earn clinical clock hours and addresses most of the competencies in cultural and linguistic diversity outlined by the American Speech-Language Hearing Association (ASHA), and many more competencies that will advance your cultural humility and give you amazing hands-on experience!
The total program fee is $2,650 and includes all local transportation, all accommodation, most meals, snacks, all materials and supplies and all cultural and adventure activities. A $250 deposit is required to confirm your space and the remainder of the program fee will be collected 45 days prior to travel. If you have any questions don't hesitate to contact us at 949-423-6165
*Group flight is not included in the price, but flight booking assistance will be provided and private airport pick-up in Belize will be provided.
Join us in Central America, January 2-12, 2024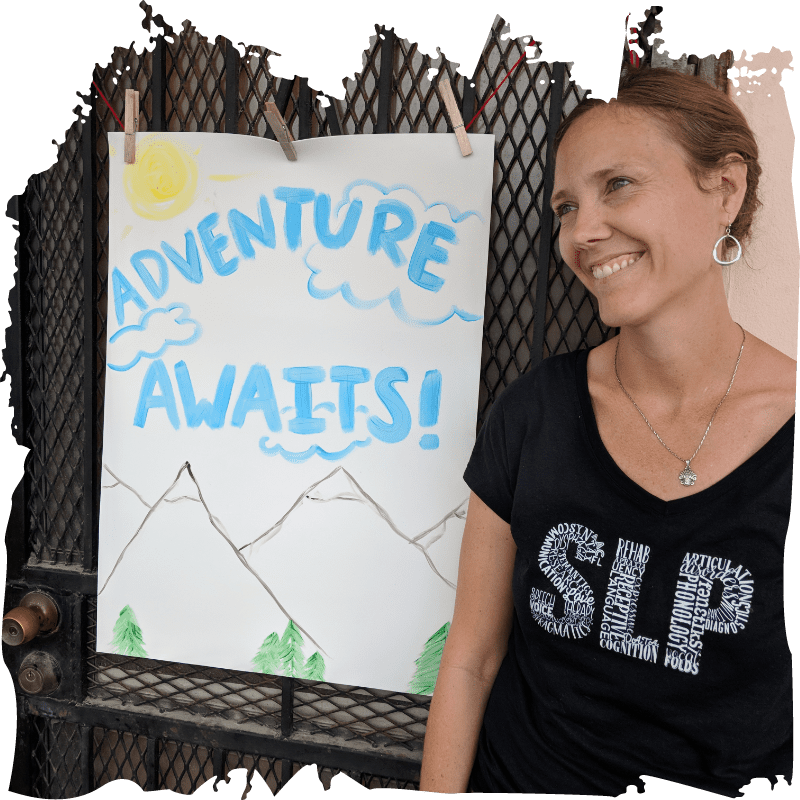 Therapy Abroad Founder Jessica Brown, MS. CCC-SLP, MT-BC
Arrival to Belize & Transfer to San Ignacio
Welcome, Overview and Goals
Program Orientation. Morning: Walking Tour & Guest Speaker / Afternoon: Screenings
Language and Cultural Influences in Belize
Afternoon school visits to neighboring Mayan and Garifuna Communities to conduct speech & hearing screens
Clinical Field Day
Today will be dedicated to working with our community partners and local villages. The day will include a variety of activities including speech-language evaluations, treatment, and/or home visits
Experience a range of pediatric and adult clients in multiple settings
Clinical Field Day & Cultural Activity
Spend the morning working with our community partners and local villages. The day will include a variety of activities including speech-language evaluations, treatment, and/or home visits
 Spend the afternoon visiting a local Mayan women's collective and learn about traditional handicrafts and food preparation. Enjoy a meal with these amazing women as they seek to preserve their cultural heritage
Clinical Field Day + Review and Documentation
Spend the morning working with our community partners and local villages. The day will include a variety of activities including speech-language evaluations, treatment, and/or home visits
 Spend the afternoon learning about special topics from your supervisors, documenting your clinical experiences thus far, and writing your SOAP notes and evaluation.
Outdoor Adventure Day
Today you will venture out into the beautiful Belizean countryside to experience the beautiful rainforest, waterfalls, rivers, and tropical ecosystems. 
Activity: Rain Forest Zipline Adventure
Village Home Health & Caregiver Training Visits
Spend the day visiting the homes of the families you have worked with to provide in-home services and parent/caregiver training to families 
Lunch with Families 
A professional exchange between SLPs, teachers, and community members
Travel to Guatemala
Early morning departure to Yax-Ha or Tikal. Walk through history on your tour of the most famous Mayan Archeological site in the world and learn about the rich culture, history and way of life of the ancient Maya. 
From Tikal, you will settle into your accommodations in Flores. Flores is a picturesque town built on an island inside one of Guatemala's largest lakes. Linked by a causeway to the town of Santa Elana. Flores is known as a gateway Tikal.
Explore Flores
Enjoy a walking tour of Flores to enjoy the many shops and the beautiful architecture 
Afternoon visits to the Isla Museo and the National Archeological Museum
Sunrise Boat Tour and Travel Day
Enjoy a sunrise boat tour of the lake, take dance lessons shop, relax and get ready for your trip back to Belize. 
After lunch, head back across the border to San Ignacio.
Transfer to Belize City
Today you will end your adventure and head back to Belize City for your flights home. Private transport will be arranged.
Note: You understand and accept that routes, timings, schedules, amenity-stops, etc. are all subject to alteration or change without prior warning due to weather constraints, local circumstances. client cancelations or other events out with our control.
Program Pricing and What's Included
The total program fee is $2,650 and includes transportation to and from the international airport in Belize City, transportation to all program events, international transfer to Guatemala and return, all accommodation, breakfast, lunch, snacks, and some dinners + all materials, activities, ASHA CCC-SLP supervisors, guides, cultural events and 24/7 support included in the program.
Space is limited
Here's how to get started:
You will be asked to register below and pay a $250 refundable deposit to confirm your space.
Once your application is confirmed, you will receive a detailed email from Therapy Abroad, including information on flights, and how to prepare for your trip. 
Program price includes:
Pre-Departure Support
24/7 In-country Support
 Accommodation 
Most Meals
All domestic Transport
Private Guides
All coursework
Professional Facilitators
All Activities listed in the Schedule
Certificate in Cultural & Linguistic Diversity
What's Not Included:
International Flights to BZE
Recomended Travel Insurance
Register For Your Program Now!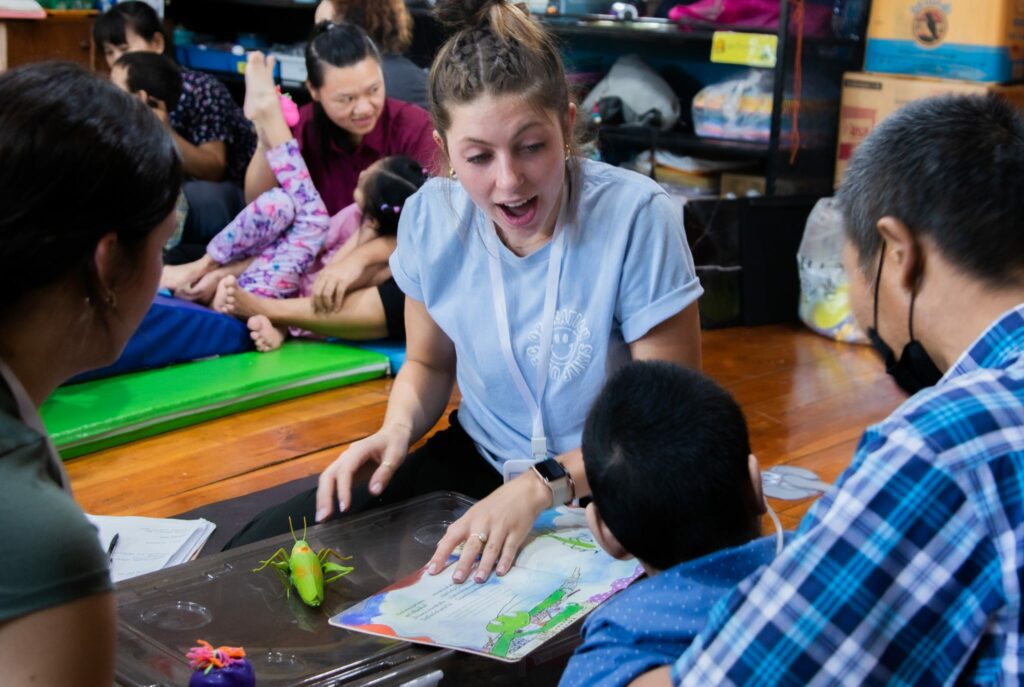 Is there a refund policy? Yes, while we are confident this trip will be a success. If it is canceled for any reason or doesn't meet the minimum number of students to travel you are guaranteed a full refund of your deposit and any tuition payments made.
Most programs are capped at 12-16 Students
A Note To Students & Faculty
We know that many students and faculty, take on a lot and work hard in their classes while managing their lives in the hyper-faced society that we all live in. Travel is supposed to be a getaway and a time to have fun, relax, eat great food and explore. At Therapy Abroad, we also believe that we are all part of a global community and that we have some shared responsibilities as part of that community. Our programs are all about people –working with people, helping people, sharing ideas with people, and learning from people while having an amazing time!
Our goal is to create an immersive program that combines all of these things that we love about travel with a really amazing learning experience!  This only works if we have a really good combination of professionals and students together and learning from each other. That is what we have tried to do with this program. We believe that you will have an amazing time working with people and getting to know their culture. The itinerary above might look like a lot, but we have also built in a lot of excellent meals, time to relax or join a local Zumba or Yoga session, kick back in a hammock, or head to the pool. We have also included activities that are not just fun, but also culturally enriching, and environmentally sustainable.
We also believe that the content, professional experience, networking, friendships built, and bucket list activities will go above and beyond your expectations. We hope you will consider making this a part of your educational experience.
San Ignacio, Belize
Shared accommodations, steps way from markets, shops, and restaurants.
Untouched Beauty of Belize & Guatemala
International Clinical Experience
Enjoy the Rich Culture & Food Belize
Rainforest Zip Line Adventure
Activities Designed with Care by Local Partners